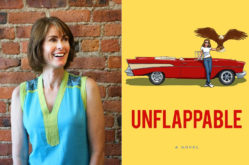 Suzie Gilbert, long-time Hudson Valley wild bird rehabilitator and writer, will join us via Zoom to discuss her new novel, Unflappable, for our next public program co-sponsored with the Crandall Public Library.
Named one of Audubon Magazine's Best Summer Reads of 2020, Gilbert's novel is a funny and suspenseful wildlife adventure.
"Fast-paced, smart, and passionate, Unflappable took me on a road trip unlike anything I've read before. Full of laugh out loud moments, it's a comic, romantic suspense story about how animals help us find the greatness within ourselves."
– Sy Montogomery, author of The Soul of an Octopus and The Good Good Pig.
Suzie Gilbert brings the world of wildlife rehabilitation to a general audience by writing this comic, suspenseful road trip novel Unflappable – the story of two millennials who attempt to smuggle a stolen Bald Eagle from Key West to Ontario via an underground railroad of wildlife rescuers.
Suzie Gilbert has been a wild bird rehabilitator for 30 years in the Hudson Valley, is an author who has written the children's book Hawk Hill, and has recently returned as a writer for the great birding website 10,000 Birds.
Here's a short video trailer to whet your appetite for the program!
Co-sponsored with the Crandall Public Library. Register in advance for Zoom link.